Wolf Camps
Parnaíba Headwaters National Park, Brazil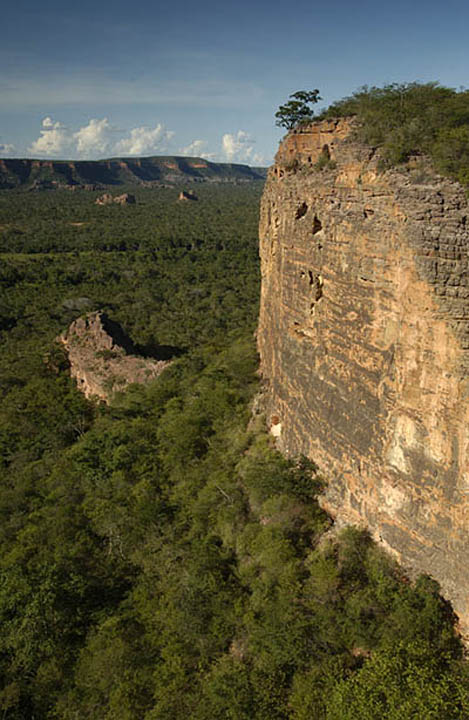 An amazing new wildlife destination…
Wolf Cliffs and Valley, Parnaíba Headwaters National Park, Brazil.
Photography: Pete Oxford. Maned Wolf & Hyacinth Macaw Photo Tour.
More about Wolf Camps
By Dr. Charles A. Munn, Founder, SouthWild
Climate

Wolf Camps has no malaria anywhere nearby, it has virtually no mosquitoes, and in April through October it has almost no rain (and in May through September, you have about a 97% chance or 99% of having no rain during any given 3 or 4 night stay. Also, the wildlife is low, at ground level, making it easy to photograph.

Maned Wolves

The Maned Wolves seem to encounter so much wild fruit and mice in November or December through, perhaps, February or March that they may become unreliable at that time, but whenever I have gone to the site in April through October, I have seen the Wolves on the first night and every night.

Hyacinth Macaws

Also, the Hyacinths really are seen in large numbers on the ground and in low trees at close range from February or March through the end of July, but from the beginning of August through the end of January, they may or may not be on the ground at feeding spots, but are more reliably at their nest sites, which means pair by pair in individual nest holes. We believe that it might be possible to have a small number (8 to 16) on the ground at 10 to 15 yards or meters even through the nesting months, but that is a hypothesis that we have only partially tested.

Green-winged (or Red-and-Green) Macaws

The red macaws – which means the Green-winged Macaw or Red-and-Green Macaw (two names for the only red macaw found in that part of South America) – can be guaranteed year round at our feeding spot at Capuchin Valley. But it will be ongoing work for us to make sure we have enough of their favorite nuts (which we have to buy and store and stockpile and dole out bit by bit the rest of the year) to be able to ensure that these macaws will always be available.

Brazil's Parnaíba Headwaters National Park

Wolf Camps is the only entity of any kind that is patrolling the new park. We are in touch with the Brazilian National Park Service about their putting in rangers, but 32 months after the creation of this park on paper in Brasilia, there still is not a single warden or guard station! So we are it, for the time being. I hope this changes, but as we are in the best location in the park, or one of the best locations from a handful of best locations, we are in a good location to protect the best stuff in our part of the park, which is one third the size of New Jersey! And we are in the only part of the park that both is great for wildlife and is reachable in less than 6 hours from any jetport.

Return to Wolf Camps itinerary

"Dreaming of that next epic wildlife adventure? Here are your go-to guys."
–Condé Nast Traveller

Arcana Mundi Expeditions

© Inka's Empire Corporation 2014. All rights reserved.